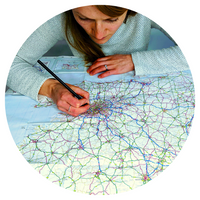 Rosie McElnay
Painting has been woven throughout my life, inspired by the rolling green hills, sandy shores and crashing waves of the magical Island of Ireland. This collection showcases scenes of my beautiful homeland.
Scenes from beyond the Emerald Isle have joined my collection. Including scenes from; Scotland, England, Paris, USA & Oz.
The breath-taking landscapes have been captured in acrylic paint, using local maps as my canvas. Each painting has been lovingly created in Portrush.
All paintings are available in A5 & A4 prints, either mounted or framed.
This is where colour meets coordinates.
View all collections
20% discount - sale collection
20% discount on Wee Classics
Reviews
Rosie painted a beautiful commissioned piece for my parents. They were absolutely delighted with the picture and it brought back many happy memories and stories.

Claire
Beautiful original artwork of special places!

Amy
The print of Benone arrived today. I love it so much. Beautifully painted and the use of maps is inspirational.

Ann
Stunning paintings delivered this morning. Absolutely marvellous, even better than we'd hoped for. Thank you so much

Isaac
We love it so much. Thank you Rosie x

Linda
Happily received my two awesome prints this morning! Looking forward to getting them on my wall!

Scott